Acap Corporation has been releasing new products information on a regular time schedule and colleting some subject for you who can use this area to get new technology and information.
 
▋High Performance Ceramic Antenna for Cell Phone.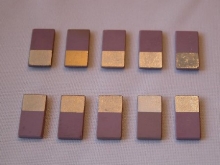 ▋Approved by Antenova Ltd.,--UK
We are a reliable ceramic material source, and design house, pleased call us!
We accept the customized ceramic capacitor and are pleased to have you to work with our engineers to solve the high voltage ceramic capacitor and relative products problems.
If you like working by engineer-to-engineer, you will enjoy working with Acap.
▋Technical capability:
We have the unique ability to manufacture custom shapes and configurations on all of our ceramic materials, as well as a variety of terminal configuration
We would be happy to let our engineers work directly with you to come up with a creative solution to your high voltage ceramic capacitor problems.