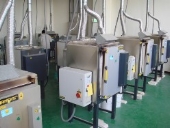 For past 20 years, Acap has been helping our customers around the world gain a competitive advantage through increase management efficiency and product quality, enhanced service and the ability of research and development. These are the foundation for our future growth. Our experiences lead us toward our goal.
 
1988 Company founded and registered capital assets US$160,000 in main products: Disc Ceramic Capacitors.
1990 Set up production line and Quality Control system.
1992 Disc ceramic capacitor and radial type and axial type.
1994 Developed ceramic element for X1Y2 Capacitors.
1995 Capital increased to US$323,000.
1996 Acap Corporation merges with InterCap Electronics Co., Ltd.
1997 As a members of Taiwan Capacitors Association
1998 Company receives ISO-9002 Certification as a quality-assured firm in Taiwan.
1999 Developed High Voltage Ceramic Capacitors epoxy dipped radial type.
2000 High Voltage epoxy dipped coated radial MLCC products.
2001 Products were approved by UL/CSA/VDE/……..
2002 High Voltage Ceramic Capacitors screw termination in Door Knob Type.
2003 Acap corporation web site established, and offering information on current products and new products.
2004 Moved to new factory and facility has 3200 Square Meter in Taiwan.
2005 Developed ceramic antenna products for Cell phone markets.
2006 Upgrade to Nano-process for ultra miniature disc ceramic elements.